Thoughts and Congratulations: Fall Testing, October 26, 2014
Leaves fall.
Swirling to earth.
Ukes do the same.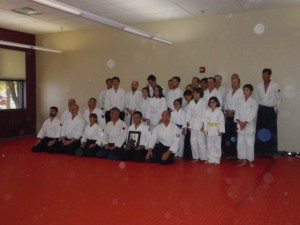 This attempt at haiku, albeit poor, came to mind as I listened to bare feet swish across the mat while the first groups of earnest students performed their Aikido tests on a bright, breezy October day. Our biannual Aikido testing, again graciously hosted and overseen by Izawa Sensei and his Tanshinjuku dojo, was Sunday, October 26, 2014.
In addition to several students testing from Tanshinjuku and Doushinjuku, Kiryu Aikido had two students testing: Katie-san for Gokyu and Charles-san for Shodan. It was heartening (and not surprising) to see their strong tests — culmination of the hours they've devoted to practicing over the past few months.
While the quantity of hours is important (it's hard to improve without the sheer reality of time on the mat), I believe the quality of the hours is just as, or perhaps more, important. Without focus and the intent to push beyond comfort zones and plateaus, practice might not get us where we want to go on our Aikido journey.
Katie-san and Charles-san showed diligence and dedication in their preparation leading up to the test day, and I believe their commitment to their practice was reflected in the quality of their tests. They were strong, clean, confident, with good spirit and zanshin.
Thanks to our Ukes — Greg-san for Katie-san's test, and Bob-san for Charles-san's test — and to everyone in the dojo who helped them along the way every class.
I want to personally thank Andrew Blevins Sensei and Senior Instructor Les Steveson for helping me prepare over the years so that I could have the honor of being an Uke for Charles-san's test. Without you both, I would not have had the joy and privilege to be a part of his test.
Congratulations, Katie-san and Charles-san. You did a great job, both in representing how far you've come on your Aikido journeys and in sharing the spirit of Kiryu Aikido, instilled into our dojo by Blevins Sensei, with others.
Keep up the hard work, and see you back on the mat soon.
–Kara