Practice at Kiryu Aikido, West Dojo – July 2014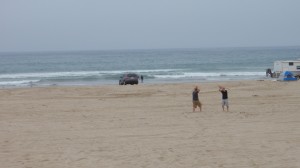 The first part of July 2014, Kiryu Aikido Instructor Kara Stewart and I visited Andrew Blevins Sensei for a week at his home in Central California. While there, we trained and went over basic and intermediate weapons relations plus open hand techniques.
Our first practice was in the backyard, against the backdrop of a lemon and orange tree. We started with a session on Tachi Dori, going through several techniques. It was great to pick up little tips and to brush off the dust a little.
The next day of training was at Grover Beach, a very long stretch of beach that is a little over a mile from Sensei's house. There, we worked in the sand – a great tool / reminder for keeping one's center and balance, and moving well to keep up with the technique – and covered intermediate relations with the bokken. We worked on the Taijutsu with the relations as well.
Then, we had the great fortune of taking breakfalls on the beach. Kara-san said it felt like landing on a memory foam mattress, firm at first, then the sand dissipated just a bit. Really cool, and fun.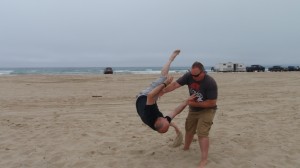 The Aikido training was great, but visit was better. What a treat to see Sensei, Mina-san and Cyrus-san. This trip alone has made my summer very memorable for me and my family. We hope to see Sensei at the dojo soon.
Kara-san and I appreciate all the time the Blevins family spent with us, and all the planning and wonderful outings and places they showed us. It was a priceless week. Arigatou gozaimashita!
Just a reminder that every Saturday, the second hour of class is devoted to our weapons practice. We'll be practicing everything from the very important basic etiquette on to the suburi, katas, and relations. Don't worry if you don't have any weapons yet. The dojo has a few sets for students to use.
Les S.